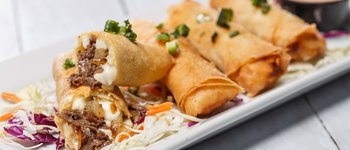 NEW RECIPE! IMPOSSIBLE BURGER
For people who love MEAT, the Impossible Burger is made entirely from PLANTS: potatoes, soy beans, coconut, and sunflower seed oil. Cholesterol free, 17 grams of protein and 35% less fat than ground beef! It's delicious and more "meaty" than ever! Topped with grilled onions, cheddar cheese, lettuce, tomato, and sweet red onion. Served with seasoned fries and a pickle. Made without Gluten.
Peppered-Bacon Cheeseburger
FEATURING A BRISKET-SHORT RIB BURGER BLEND Our proprietary burger blend of ground chuck, brisket and short rib grilled to perfection and topped with candied black pepper bacon and Cooper Sharp White Cheese. Served with seasoned fries.
Chicken & Cheddar Quesadilla
An over-stuffed quesadilla filled with shredded chicken, grilled onions, bacon, Monterey Jack and cheddar cheeses, and Southwestern BBQ Ranch. Served with fresh salsa and sour cream.
Braised Short Rib Entree
Tender, braised beef short rib topped with onion straws and served with creamy mashed potatoes and fresh seasonal vegetables.
Roasted Asparagus
Oven roasted, seasoned and buttered. 1/4 lb.
Strawberry Lemon Crush
Absolut® Citron lemon vodka, fresh lemon juice, and crushed strawberries are blended and topped with lemon-lime soda.
Kentucky Mule
Fresh strawberries blended with Bulleit® Bourbon, lemon, honey, and topped off with ginger beer.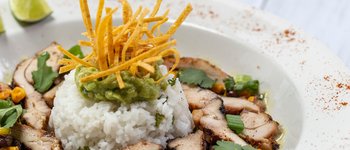 House-Baked Salted Caramel Cookie
A 1/3 lb. house-baked salted caramel cookie topped with vanilla ice cream and caramel sauce.
Southwest Chicken Sandwich
Chargrilled and sliced chicken, bacon, Cooper Sharp White Cheese, lettuce, tomato, grilled onion, and spicy Sriracha-garlic mayo on grilled sourdough.
Short Rib Grilled Cheese
Tender beef short rib on grilled sourdough bread with melted Cooper Sharp White Cheese and grilled onions. Served with seasoned fries.
Spring Spinach Salad w/ Grilled Chicken
Baby spinach, sweet red onions, dried strawberries, red grapes, and mandarin oranges are tossed in a citrus-honey-Dijon vinaigrette and then topped with tangy bleu cheese crumbles, candied walnuts, and warm, freshly grilled chicken. Also available without grilled chicken.
Bacon-Wrapped Asparagus
Wrapped in bacon, fried, and drizzled with a sweet and tangy balsamic syrup.
Sparkling Gin Cooler
Cucumber vodka and Tanqueray® gin are blended with fresh mint and lime and topped off with sparkling water.