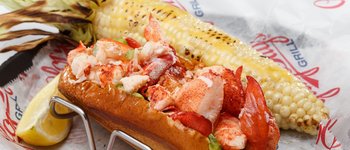 Black Oak BBQ Pork Sandwich
Tender, zesty, and smoky pulled pork with your choice of sauce piled high atop a freshly baked brioche bun. Served with seasoned fries, coleslaw, and watermelon. APPLEWOOD GRILLING SAUCE ORIGINAL BBQ GLORY
Strawberry Lemon Crush
Absolut® Citron lemon vodka, fresh lemon juice, and crushed strawberries are blended and topped with lemon-lime soda.
Buffalo Ranch Dry-rubbed Wings
The best of both worlds! Dry-rubbed with Buffalo ranch seasoning. Served with celery and your choice of bleu cheese or house made buttermilk ranch.
Cedar Plank Salmon & Shrimp Combo
Salmon fillet and four shrimp grilled on a flavor-infusing cedar wood plank with mustard rémoulade. Served with steamed seasonal vegetables.
Bourbon Peach Tea
Bourbon, peach schnapps, peach syrup, and freshly brewed sweet tea.
Strawberry Rosé Sangria
Roséwine, triple sec, brandy, lemonade, strawberry puree, and pomegranate syrup.
NEW RECIPE! IMPOSSIBLE BURGER
For people who love MEAT, the Impossible Burger is made entirely from PLANTS: potatoes, soy beans, coconut, and sunflower seed oil. Cholesterol free, 17 grams of protein and 35% less fat than ground beef! It's delicious and more "meaty" than ever! Topped with grilled onions, cheddar cheese, lettuce, tomato, and sweet red onion. Served with seasoned fries and a pickle. Made without Gluten.
Brisket-Short Rib Burger Blend
W/ CANDIED BLACK PEPPER BACON AND COOPER SHARP WHITE CHEESE Our proprietary burger blend of ground chuck, brisket, and short rib grilled to perfection and topped with candied black pepper bacon and Cooper Sharp White Cheese. Served with seasoned fries.
Chicken Caprese w/ Fettuccine
Chargrilled chicken, locally-sourced heirloom tomatoes and fresh mozzarella topped with basil and grape tomatoes. Served with fresh fettuccine and basil cream sauce.
Funnel Cake Fries
Topped with powdered sugar and served with hot fudge for dipping.
Pina Colada Mojito
Rum, coconut rum, coconut water, pineapple, lime, and club soda.
Angry Roséita
Angry Orchard Rosé Cider, tequila, pineapple juice, lime juice and simple syrup.
Vintner's Reserve California Rosé
A gorgeous hue of pale pink jumps out of the glass with crisp grapefruit, strawberry and white flora notes.