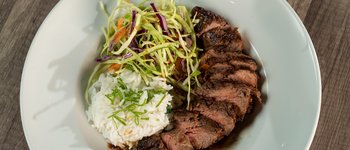 IMPOSSIBLE BURGER
For people who love MEAT, the Impossible Burger is made entirely from PLANTS: potatoes, soy beans, coconut, and sunflower seed oil. Cholesterol free, 17 grams of protein and 35% less fat than ground beef! It's delicious and more "meaty" than ever! Topped with grilled onions, cheddar cheese, lettuce, tomato, and sweet red onion. Served with seasoned fries and a pickle. Gluten Free.
Brisket-Short Rib Burger Blend
Our proprietary burger blend of ground chuck, brisket, and short rib grilled to perfection and topped with Cooper Sharp American Cheese and crispy bacon. Served with seasoned fries.
Winter Spinach Salad
Baby spinach tossed with pears, apples, pecans, dried cranberries, and red onions in an apple-honey Dijon vinaigrette. Topped with bleu cheese.
Buffalo Ranch Dry-Rubbed Wings
The best of both worlds! Dry-rubbed with Buffalo ranch seasoning. Served with celery and your choice of bleu cheese or house made buttermilk ranch.
Whoopie Pie
Two moist chocolate cakes filled with light and creamy frosting. As good as you remember...and shareable!
Apple Ginger Mule
Crown Apple® mixed with fresh-squeezed lemon and local apple cider and finished with ginger beer for a seasonal version of the classic mule. Add Goldschlager® and Butterscotch to make it an Apple Pie Mule for an upcharge!
Cranberry & Raspberry Mint Mocktail
Fresh limes muddled with mint and raspberry syrup. Finished with cranberry juice and lime soda.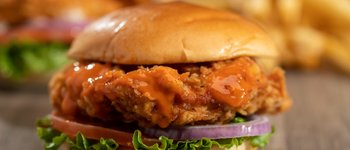 Impossible Cheesesteak
Your favorite plant-based burger prepared like our version of the Philly classic! Impossible™ 'meat' served on a freshly grilled artisan roll with grilled onions, lettuce, tomatoes, mayo, and melted Cooper Sharp American Cheese. Served with seasoned fries.
Homemade Meatloaf
A seasonal favorite! Tender and delicious all-beef meatloaf chargrilled and topped with our sweet and spicy Glory Sauce. Served with mashed potatoes and seasonal vegetables.
Grilled Meatloaf Sandwich
Our housemade all-beef meatloaf chargrilled, brushed with Glory Sauce, and topped with grilled onions and melted cheddar cheese. Served on toasted sourdough bread with seasoned fries.
New England-Style Baked Cod
Fresh, wild-caught Atlantic cod topped with buttery Ritz Cracker® crumbs and baked. Served with mashed potatoes, seasonal vegetables, and remoulade.
Blood Orange Bourbon Cider
A fresh take on the Old Fashioned: Blood Orange syrup, Bulleit® Bourbon, and local apple cider. Topped with Angry Orchard™ Crisp Apple Hard Cider.
Vanilla Pear Martini
Grey Goose® La Poire, Licor 43, and St. Germain® Elderflower liqueur are combined for a sweet and refreshing cocktail.