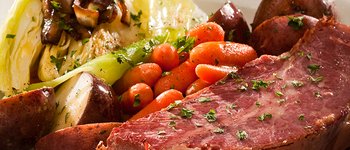 CHEDDAR ALE SOUP
Rich and creamy cheddar cheese soup infused with ale and served with a warm Bavarian–style soft pretzel.
Shepherd's Pie
Savory Guinness-braised ground beef, minced grilled onions, and corn baked in a casserole and topped with mashed potatoes and melted Monterey Jack and cheddar cheeses.
NEW RECIPE! IMPOSSIBLE BURGER
For people who love MEAT, the Impossible Burger is made entirely from PLANTS: potatoes, soy beans, coconut, and sunflower seed oil. Cholesterol free, 17 grams of protein and 35% less fat than ground beef! It's delicious and more "meaty" than ever! Topped with grilled onions, cheddar cheese, lettuce, tomato, and sweet red onion. Served with seasoned fries and a pickle. Made without Gluten.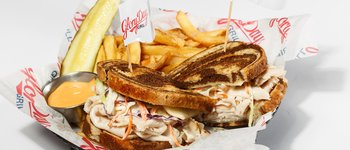 The Reuben
Slowly braised corned beef accompanied by tangy sauerkraut, melted Swiss cheese, and Thousand Island dressing, and grilled between freshly baked marbled rye bread. Served with seasoned fries and a crispy pickle spear. Top with the "Crowning Glory" (a soft fried egg)!
Fish & Chips
Pub-style Yuengling beer battered fish fillets served with our creamy coleslaw, crispy seasoned fries, and tartar sauce.
Buffalo Chicken Egg Rolls
Four housemade egg rolls fried until crispy and served with bleu cheese dressing.