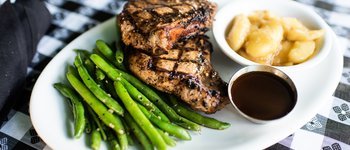 JG'S Pork & Chips
Homemade pub chips topped with slow smoked pulled pork, queso, diced tomatoes, red onion, coleslaw, drizzled with tangy buffalo sauce garnished with jalapenos.
MVP Burger
Hand crafted, 1/2 lb Proprietary blend topped with Cheddar, grilled onions and a hickory chipotle sauce.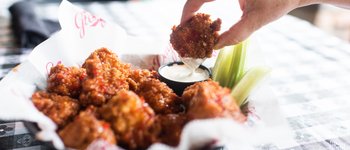 Chicken Rice Bowl
Grilled chicken, Basmati rice, diced tomatoes, romaine lettuce, cabbage, guacamole, onions, topped with Feta horseradish aioli and fresh cilantro.
Peach Cobbler
Baked peaches with cinnamon and brown sugar. Topped with streusel and vanilla ice cream.