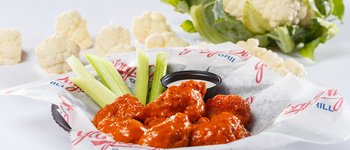 Open-Faced Turkey Sandwich
A delicious oven-roasted turkey breast thinly sliced and topped with traditional cornbread stuffing and a rich turkey gravy. Served on grilled Texas Toast with a side of creamy redskin mashed potatoes and cranberry sauce.
Buffalo Chicken Wontons
Six housemade wontons filled with our creamy and spicy Buffalo chicken and served with bleu cheese or ranch for dipping.
Gridiron Sandwich
A legendary sandwich with a Glory Days Grill® t wist featuring house- roasted turkey, 5 -hour housebraised corned beef, melted Swiss, seasoned fries, creamy coleslaw and topped with an egg over easy. Served on grilled focaccia and accompanied by seasoned fries and a crispy pickle.
S'Mores Cake with Toasted Marshmallow
A slightly grown-up version of the campfire favorite! Moist graham cracker cake filled with chocolate ganache and topped with toasted marshmallow.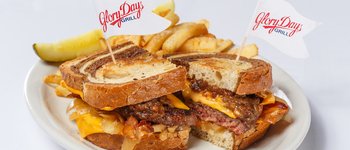 HOMEMADE MEATLOAF
A seasonal favorite! Tender and delicious all-beef meatloaf chargrilled and topped with our sweet and spicy Glory Days Grilling Sauce™. Served with mashed potatoes and seasonal vegetables.
Chicken and Cheddar Quesadilla
An over-stuffed quesadilla filled with shredded BBQ chicken, grilled onions, bacon, Monterey Jack and cheddar cheeses and Southwestern BBQ Ranch. Served with housemade guacamole.
Bacon, Cheddar and Onion Omelet
A fluffy, four egg omelet filled with bacon, grilled onions, and melted Jack and cheddar cheeses. Served with steamed vegetables and Texas Toast.