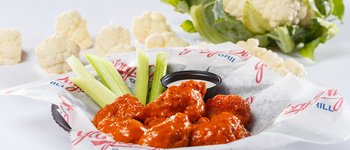 24 KARAT GOLD WINGS
Heat, butter, and sweet mustard in equal combination. Unique, new, delicious.
SUPERFOOD SALAD
Romaine lettuce, broccoli, shaved golden beets, asparagus, radishes, red onion, grape tomatoes, sunflower seeds, and a house-made balsamic vinaigrette. MAKE IT MORE "SUPER" with chargrilled salmon.
CHICKEN SKILLETS
Choose your style! Boneless and skinless chicken thighs served with jasmine rice. MR. CACCIATORE'S CHICKEN Grilled and baked cacciatore-style with tomato, provolone cheese, and fresh basil. CHICKEN KALBI Grilled and baked in a Korean-style Kalbi sauce, then topped with green onions and sesame seeds.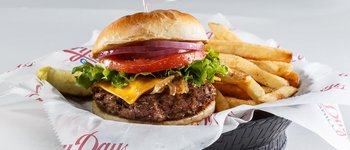 BBQ SHRIMP with CORN SALSA
6 large shrimp chargrilled, brushed with house-made BBQ sauce, and served atop a zesty corn and black bean salsa.
CHICKEN FOCACCIA SANDWICH
Seasoned chicken breast chargrilled with southwestern spices. Topped with Cooper Sharp White cheese, grilled onions, lettuce, tomato, fresh basil, and garlic aioli. Served with seasoned fries and a pickle.
SMOKEY POBLANO CHEESEBURGER
Cooper Sharp White cheese and grilled poblano pepper. Served with seasoned fries and a pickle.